These are our favorite "green" sports cars. Some get awesome gas mileage while smoking the competition, and others use advanced bio-fuels to eek out ever higher performance over their gas-guzzling brethren. Big Oil doesn't like any of them, because they all mean one thing: if you buy them, Big Oil makes less money.
#1 Greenest Sports Car: Tesla Roadster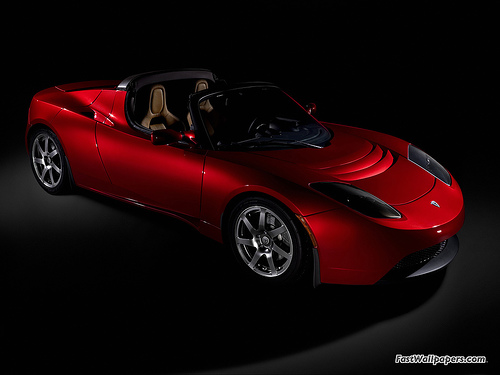 Built from the same chassis as the Lotus Exige 265E is a next green sports car, the Tesla Roadster. Tesla has taken the most radical approach to being green; they removed the internal combustion engine and substituted a small 70-pound electric motor. Powered by a 3-phase, 4-pole electric motor producing 248 horsepower, which is good for 0-60 mph in 4 seconds. Despite the 70-pound motor, the battery adds enough weight to bring the total weight up to 2690, which is 600 pounds more than the Exige and Elise. The one thing you don't hear from the bio-fueled cars is gas mileage. The Tesla can proudly say it gets 135 miles per gallon equivalent.
Download Tesla Roadster desktops in the FastWallpapers.com Tesla gallery
#2 Greenest Sports Car: Toyota FT HS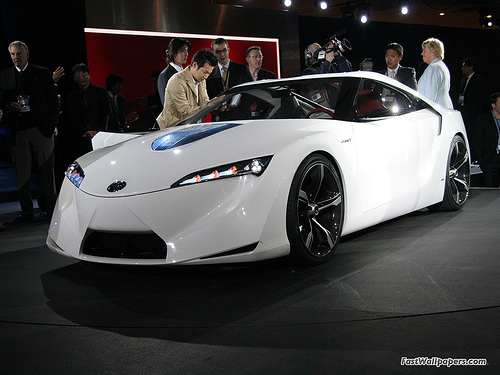 The Toyota FT-HS finishes out the line up of environmentally friendly sports cars. The FT HS is the only prototype in the line up because it will be the first hybrid sports car. The FT HS promises to be a real performer with help from an electric motor and a 3.5-liter V6 engine. The combination electric motor and V6 are said to produce around 400 bhp and accelerate to 60 mph in under 4 seconds all while producing ultra low emissions.
See more pics of this sweet concept car by Toyota here.
#3 Greenest Sports Car: Lotus Exige 265E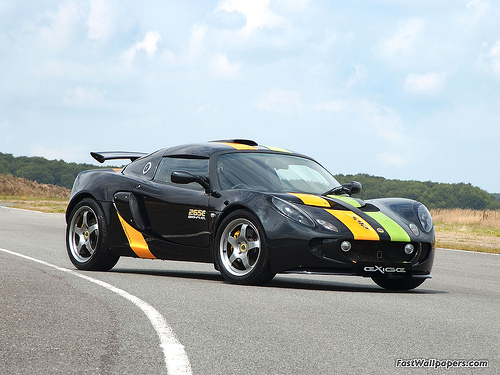 Another offering from the British is the Lotus Exige 265E. The thing that sets this Exige apart from any other Lotus is its ability to run E85 ethanol and 95-octane unleaded fuel. Thanks to the 109-octane rating of ethanol, the boosted 1.8-liter Toyota 4-cylinder inline engine makes 46 more horsepower than its non-ethanol counter part, the Exige S. Its low weight of only 2061 pounds does not hurt either. The 0-60 mph acceleration drops from 4.1 to 3.8 seconds. Lotus has accomplished building the fastest car ever to leave their stables and the first Lotus to promote the use of renewable energy sources at the same time.
Click here to see more desktop background pictures of the Lotus Exige 265E.
#4 Greenest Sports Car: Trident Iceni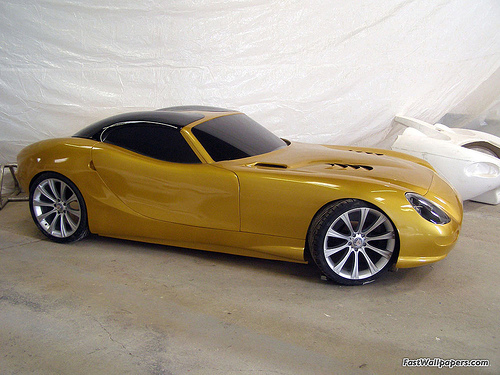 A small British company called Trident has produced a two-seater sports car called the Iceni. The Trident Iceni is the only Diesel fueled car that made it into the line up. Powered by none other than a GM sourced 6.6-liter V8 turbo diesel engine. The V8 produces 520 lb/ft torque at only 1800 rpm. That is enough power to propel the Iceni to 60 mph in 3.9 seconds and a top speed over 200 mph. Most impressively, the Iceni can do all this with 60 mpg and 1,000 miles on one tank and it runs on pure vegetable oil. The Iceni is also the only car in the line up that will unfortunately never make it stateside.
Go to the Trident Iceni desktop gallery here.
#5 Greenest Sports Car: Porsche Cayman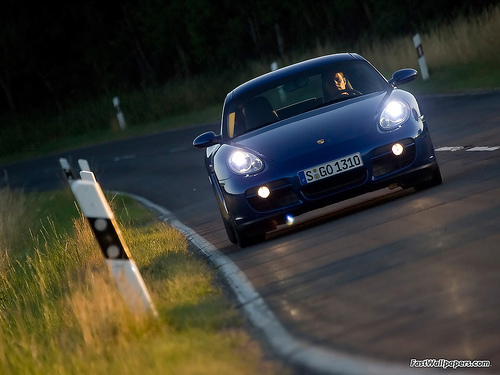 Porsche has proved that sport cars can be just as fuel efficient as the common car, if not more so with the Cayman. The Cayman is Porsche's greenest car ever with a 2.7-liter, 241 horsepower, and boxer-engine. The Cayman starts at $49,400, which is cheap for a Porsche. For under $50,000, you cannot have both the speed and style if you want a Porsche. Performance is good with Porsche's 0-62-mph claim of 6.1 seconds. The Cayman's fuel economy is a respectable 23 city/32 highway compared to the more powerful Cayman S's 20/27 mpg. It's no Toyota Prius, but it gets the job done, and in style.
See more desktop pictures of the Porsche Cayman here.
#6 Greenest Sports Car: Koenigsegg CCXR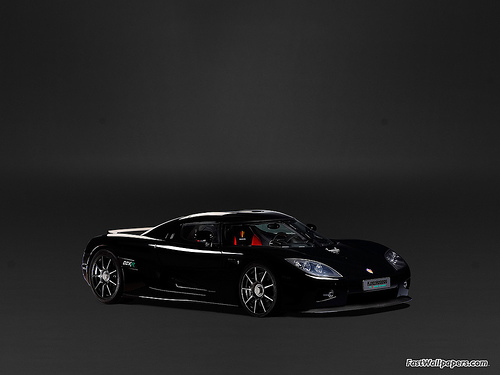 Like Lotus, Koenigsegg has found the use of bio-fuels like E85 ethanol can add substantial performance to their already powerful engine. The CCXR bio-ethanol version of their CCX sports car is the fastest, most powerful sports car that can call itself environmentally minded. With 1,018 bhp, the CCXR will hit 60mph in 3.0 seconds. Its top speed is over 250 mph. This is a car that uses Green technology to increase performance.
See more sweet desktop pictures of the Koenigsegg CCXR here.
Summary
The Tesla Roadster highlights technology that all sports car manufactures should take a look at. The Toyota FT-HS sounds great but it could be so much better and greener if they made it fully electric and dumped the V6. The battery technology is good enough that the internal combustion engine is a waste. The only reason to put in an engine into any battery-powered car is for charging the limited range batteries. Making them capable of greater distances due to the fact that charging still takes at least 3 hours compared to 5 minutes to fuel up. Currently the Tesla has a 250-mile cruising range on a single charge. The Tesla's charging time is better then most, from dead to fully charged in 3.5 hours.
If you have any suggestions of sexy sports cars that should be on this list, please leave a comment.