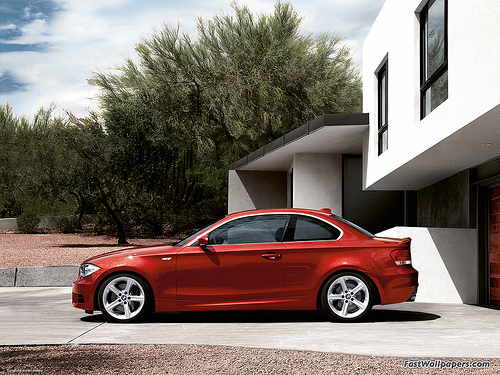 2008 BMW 1-Series Coupe
This spring 2008, the BMW 1-series will make their American debut. In 1968, BMW brought the 2002 to the United States and won the hearts of drivers. And once again BMW hopes to do it again with the same formula that made the 2002 an icon, big power and agile handling in a small lightweight rear-wheel-drive coupe. The U.S. will be getting two versions, the 128i and 135i. Both powered by 3.0-liter inline six-cylinder engines. The 128i will have the naturally aspirated 230 horsepower 200 lb-ft of torque. The 128i's I-6 is the same unit found in its bigger brother, the 328i. Judging from the performance of the 328i, one can expect the lighter 128i to reach 60mph in well under the 328i's 6.2 seconds. The 135i is the twin-turbocharged 300-hp 300 lb-ft of torque version of the 3.0-liter I-6 which is the same as the 335i. BMW's conservative 0-62 mph time for the 335i is 5.3 seconds. Car and Driver Magazine tested a 335i Sedan and recorded 4.8 seconds 0-60. The 135i weighs 500 pounds less than the 335i, so one can expect the 135i to be even faster. Some say as fast as 4.5 seconds to 60 mph.
The design of the new 1-series has a muscular look with a long, low hood and a short, high rear end thanks to an integrated spoiler. An M aerodynamic kit is optional on the 128i and standard on the 135i. The 135i gets Adaptive Xenon headlights as standard, while they are optional on the 128i. Pricing is to be announced but 5,000 off their 3- series counterparts is a safe guess, making the 128i base 25,000 and about 35,000 for the loaded 135i. That means you should be able get a 135i capable of 0-60 in 4.5 for 35,000. I think the 1-series is going to be very popular in both formulas, 128i and 135i.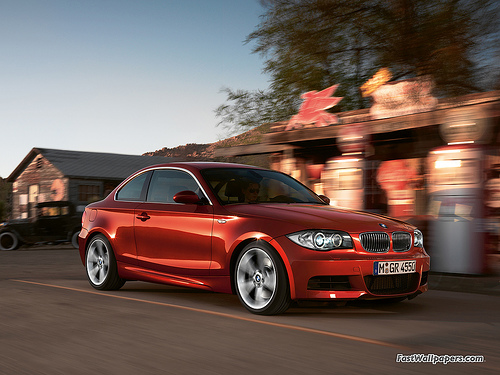 See more pictures of the 135i and other fast cars at Fast Wallpapers BMW 135i Gallery