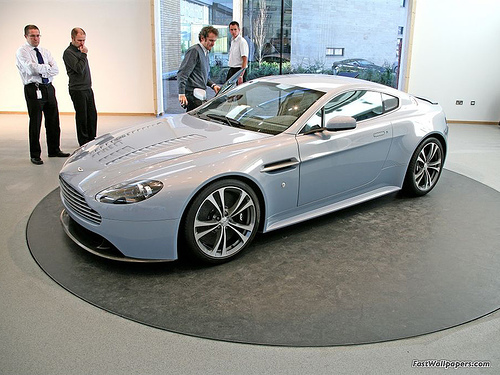 Aston Martin has made the best-looking cars since 1913. And the V12 Vantage RS is no exception. The V12 Vantage RS is based on the V8 Vantage. The V8 Vantage has been beloved ever since its introduction in 2006. The only criticism for the V8 has been its lack of power. A 380 horsepower 4.3 liter V8 produced good power but lacked real Super Car performance. Now free from the death grip of Ford motor company, Aston's new leadership decided to make big news with a V12 Vantage RS concept. The engine of choice was the V12 engine from the DBR9 racecar that produces over 600 hp. This engine would add just under 200 pounds to the curb weight of the Vantage, but Aston engineers' found a way to strip over 300 pounds from the chaise to a total weight of 3420 pounds.
To put this all in perspective, the 2007 Subaru STI weighs in at 3300 pounds and with 300 horsepower it can accelerate to 60 in 4.7, which is the same as the V8 Vantage. The V8 Vantage's additional 80 hp is not enough to push the 300 extra pounds faster than the Subaru. The V12 Vantage's 610 horsepower is almost double the original output and improves the Vantage's time to the sub 4-second range. This 610 hp engine is also in the new DBS. With the DBS's additional 350 pounds, it slows its 0-60 sprint to 4.3 seconds. All in all very respectable performance from the new V12 Vantage RS.
When the V12 Vantage RS hits showrooms in 2009 except to pay close to 200,000 each in a limited run of around 100 unites per year. It may be one of the most beautiful cars Aston Martin has ever produced and better looking than the DBS.
Check out our pics and wallpapers of the Aston Martin V12 Vantage RS